APS Canon 6D Proficiency Test
From Help Wiki
Proficiency test for the APS Canon 6D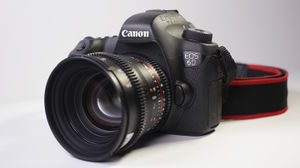 Answers may be found in the 
Canon 6D Operating Guide
. Complete this written portion and bring it with you to your scheduled operational proficiency. Call 867-6253 if you have any questions.
Note: the APS 6D kits come with lenses that have de-clicked, manual aperture rings. You can not change the aperture digitally through the body and subsequently the aperture preview button does not function with these lenses.
Note: Because these lenses have no digital components, they do not properly communicate with the light meter when taking photos through the viewfinder. The light meter is unaffected for video and live-view photography.
Written
What type of media are these 6D kits intended for?
What are the main differences between the Canon 6D and a Canon Rebel?
Describe at least one method to adjust each of the three exposure settings: aperture, ISO and shutter speed.
Where are two places you can view your exposure settings?
How do you activate Live View when taking pictures?
How do you record video?
Describe how to change a lens.
Briefly define and describe why you would change the drive mode and metering mode.
How is this different from APS kit lenses different than the lenses in General Access?
The APS kit comes with variable neutral density (ND) filters. What are these for and how do you attach them?
The 6D can record video at frame rates of 30 or 24 FPS at 1080p and 60 FPS at 720p. Talk about what these numbers mean.
What lens mount is compatible with this camera? What other similar lens mount is not and can cause permanent damage?
Describe at least three ways this camera can be permanently damaged.
If your equipment is lost, stolen or damaged who is 100% financially responsible?
Operational
Turn the camera on and show how to change the ISO, shutter speed, and aperture settings.
Adjust the diopter
Demonstrate how to switch between photo/video mode as well as turn on Live View.
Change the picture and video resolution/quality.
Show how to format a memory card.
Activate the Quick menu (Q) and name ALL of the settings that this button can change.
Attach a lens and attach an ND filter to it.
Demonstrate how to change and remove a lens.
Create a proper exposure and record a video.
Demonstrate how to critical focus.
Demonstrate how to change the white balance and how to set a custom white balance.