Change My Evergreen Account Password
From Help Wiki
Instructions for changing your password.
Alert: Faculty and Staff passwords are set to expire every six months.
Changing Your Password
Login to my.evergreen.edu
Click on Profile link in the upper right corner
Select the Change Password link.
Sign in with your full evergreen email and current password.
At the Change Password page, type in your current password and set a new, secure password.
Your new password must meet the minimum requirements listed below:

At least 8 characters.
May not include your name.
May not be the same as your last four (4) passwords.
Must include at least one upper-case letter, lower-case letter, and a number.

Confirm your new password in the second password box.
Click the submit button.
Once you click submit you will be redirected to your Evergreen Account Profile. From here you you will be able to review your account settings. Once everything is reviewed please choose the option "Sign out of everywhere" and navigate back to my.evergreen.edu to access your Evergreen resources.
Note for Evergreen-provisioned laptop users: PC Laptop users that are off campus will need to use the OLD password to log into their laptops UNTIL they return to campus with the laptop. At this point the laptop will check in with the servers and get the new password. Mac user's computer passwords are not tied to the Evergreen domain password. Mac LAPTOP passwords are not required to change.
Update Your Password on All of Your Devices
click Expand for detailed steps
Windows: Clear Saved Passwords


In Credential Manager expand the password box by clicking the arrow
Click "Remove" on all evergreen.edu passwords.
You need to look under the Web Credentials and the Windows Credentials for these saved passwords.


Mac: Clear Saved Passwords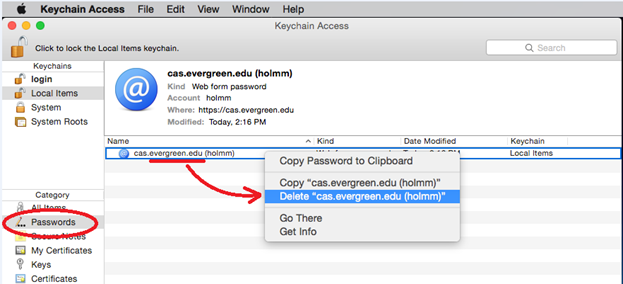 Firefox: Clear Saved Passwords
Chrome: Clear Saved Passwords
Mobile Phone Clear Saved Passwords
Put phone in Airplane mode
Click on Mail App
Find evergreen.edu email account
Delete Account or Remove Account
Re-Add Account with new password.
If you have your Evergreen password saved on any device (such as a smartphone, tablet or home computer) be sure to update the password on those devices.
The old password can cause you to get locked out of your account.

Example: if you check your email on your phone and don't have to type in your password each time you have a saved password. The phone will keep trying the old saved password and after 5 failed attempts your account will be locked for 15 minutes as a security measure before it lets you try again.

If you need additional assistance please contact the Technology Support Center at 360 867-6627 or via email at support@evergreen.edu