PerkinElmer Sprecturm2000 FT-IR (FT-IR-1)
From Help Wiki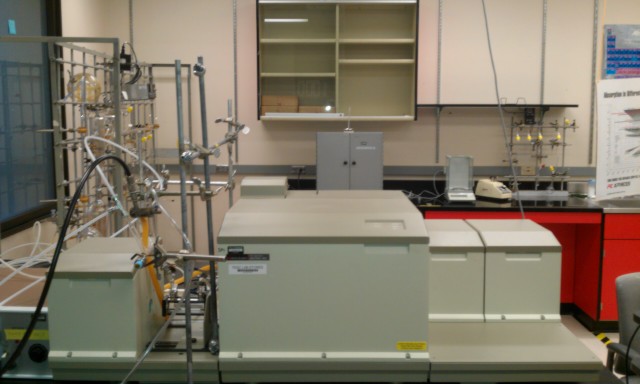 Fourier transform infrared spectroscopy Wikipedia entry

Manuals

Information Table


---
Notes
DO NOT TURN OFF THE COMPUTER!

DO NOT TURN OFF THE INSTRUMENT!

If the computer is turned off, the spectrum software will need to be run; do a 'BkGrd' (background scan) from the home screen. This needs to be done every time the computer is turned back on. This will initialize the instrument and put it into a ready state. The Ready green LED light should be on after the instrument has initialized.
The [PCI] computer controller board doens't automatically put the instrument into ready mode. Apparently, the ISA controller board does interact with the instrument to initialize it and put it into ready mode.
The instrument should be left on so the internal heater can keep the inside of the instrument dry. Internal moisture will degrade the salt based piece inside the instrument.
Controller board information:

Perkin Elmer
PCI Single T4 PCB
ASSY NO L1360664
ISS
"53-10/08/04"
---
Computer & Software
Software requires license key which can be found on the back of the CD case or on the license certificate located in the CAL Manager file drawer.
Software uses two directories found at the root of the drive: pel_apps & pel_data. Standard user will need write access to "pel_data".
Software installation requires the 'mapping' or setting of the transputer I/O address; this is the PCI card. There's a help document on how to do this: File:Perkin Elmer Spectrum Changing the Transputer IO Address.doc. An application will be required to set the memory address of the transputer: D:\IR Spectroscopy Tools\Set Transputer IO Address.exe
Perkin Elmer Spectroscopy software version 5.3.1 will not work on Windows 7 --already tested, and also not supported. Also, the software will only work on Windows XP 32 bit edition.
Analysis Software
---