Pidgin Chat Client for Windows
From Help Wiki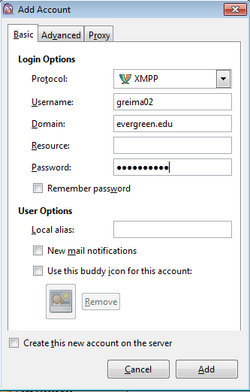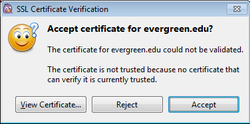 Setup
Add a new Account
Download and install Pidgin
Launch Pidgin and add an XMPP (jabber) account by going Accounts > Manage Accounts
Click the Add button
Set the following for your new account Figure 1

Protocol = XMPP
Username = your_evergreen_login
Domain = evergreen.edu
Password = your evergreen password

Click Add
You may need to click Accept to verify the SSL certificate
Update your chat profile/picture
Go Accounts > Manage Accounts
Select the account you'd like to manage and click Modify
Check Use this buddy icon box and click the icon to choose a new image from your hard drive
Add a Buddy (to see profile pictures)
Go Buddies > Add Buddy
Enter the Buddy's username (their evergreen email address)
Assign them to a group (you may want to create a new group called Evergreen and add them to that)
Click Add
A message will go out over chat requesting that the user authorize the request to be added to contacts. This is just like friending someone on Facebook.
Once the request has been authorized you will be able to see when this person is connected to chat and you will be able to see their profile picture.
Still having problems connecting?
Check all the above instructions to verify you have configured your chat client properly
Get help from the Computer Center (360) 867-6227, or email us.
A small percentage of Comcast users may encounter issues with Comcast's DNS servers.If you are a Comcast user and are still unable to connect:

Connecting through a router? Try connecting directly to your modem instead and see if you are able to connect.
If this works you can choose to do bypass your router when you need to chat or if you want to continue to use your router follow the next step to change your local DNS.
Change your network settings to point to Google's DNS server instead of Comcast. Follow closely the instructions located here.
How to join an academic program chat
For academic programs using the Evergreen jabber server to connect to a group chat, you can add an existing group chat to your Buddy List
From the Buddy List window go Buddies > Add Chat
Enter the Chat room name you'd like to join (your faculty should provide this)
Enter the Server name: programs.evergreen.edu
Handle is the name others will see when you're in the chat room
If the chat room is password protected you may need to enter the Chat Room password here (your faculty should provide this). Note: This is NOT your evergreen password.
Alias and Group let you control how the chat room is listed in your Buddy List
Once you've setup your account and chat room the next time you want connect to your chat room simply launch Pidgin and then double click your chatroom from the Buddy List window.
Set preferences to log chats
Go Tools > Preferences > Logging
Choose General
Check "Log all chats"
View chat logs
Connect to the chat room you'd like to see the logs for (Buddies > Join a chat)
From the top menu choose Conversation > View Log
Click Browse logs folder to locate the .txt file of these logs.
This page was last modified on 3 May 2013, at 12:26.
Content is available under CC-BY-SA unless otherwise noted.