Sem II 3109 Seminar
From Help Wiki
SEM2 3109 rooms are seminar classrooms in the 3rd floor of Sem2 pod A and pod E only. Other 3105 rooms are not currently available.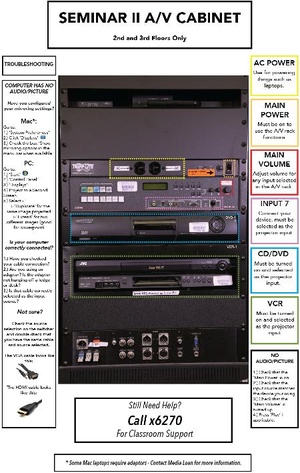 Starting
Make sure the Main Power switch in the rack is turned ON
To turn ON the projector press and hold the green Display Power button for 3 seconds, then let go.
Press the Screen Down button to lower screen.
Laptop
Connect the VGA or the HDMI cable below the rack into your laptop.
If you connected the VGA cable, press the VGA Laptop, or if the HDMI cable, select HDMI Laptop on the Switcher.
Turn on your laptop.
If the resolution does not come up right, try using 1280x768 in Display Settings (Windows) or System preferences>Displays (Mac)
Video (VCR & DVD)
Press the CD/DVD or VCR button on the Switcher.
Put your media into the player.
The remote control for each should be hanging on a spiral tether at the side of the rack, or on top of the rack.
Using a Laptop disc drive (if available) to project DVDs is another option. Follow instructions for connecting your laptop.
Audio
The DVD player can play CDs - just pick CD/DVD button on the Switcher, put in your CD and press play.
The VGA cable can be used for to connect a 3.5mm headphone jack (press VGA button on the switcher)
To use a Laptop for music or other sound, follow the laptop instructions.
Finishing Up
Remember to turn things off when you are done!
Turn off the Projector by holding the Display Power button for 3 seconds.
Turn off the rack power.
Troubleshooting:
No picture?:
- Does laptop have power?
- Is projector turned on?
- Is VGA or HDMI cable plugged in all the way to the laptop (or adapter plugged in all the way to both the wire and the laptop?
No audio?:
- Is room volume on the switcher turned up?
- Laptop: Is the volume on your laptop turned up and output source correctly selected?
Assistive Listening Procedures
This room does not have integrated listening technology installed, but there is a microphone input jack and XLR or phono plug outputs on the panel.
These can be used to connect an extra microphone and listening equipment, or self-contained listening equipment can be used.
Please work with [Access Services] to coordinate an extended checkout of suitable listening equipment from Media Loan.