APS Lighting Equipment Guide
From Help Wiki
There are multiple options for lighting equipment in APS. These kits do not require proficiencies, but as with all other APS checkouts, they do require an APS workorder. APS equipment is typically restricted to students in media-centric classes/programs and ILC's/SOS's. Before requesting equipment from APS, please familiarize yourself with APS policies and procedures here.
SAFETY
Please exercise caution with all lighting equipment checked out from Media Loan. The lights can get extremely hot and most require a lot of power.
When using lighting equipment from Media Loan, ALWAYS:
Use gloves to protect your hands
Tape down wires/cords to prevent tripping hazards
Weigh down heavy stands with sandbags
Plug lights into grounded outlets
Use gloves/hand protection when changing lamps (bulbs)
DO NOT:
Touch hot lights without proper hand protection
Touch any lamp (bulb) with your bare hands
Expose lights to water
Expose lights to extreme weather/temperatures

Lamp (bulb) Changing
It is extremely important that you never touch any lamp with your bare hands. You hands are covered in oils that can get onto the lamp. Once this oil heats up, there is a high risk of the lamp exploding. If you ever need to change a lamp with these light kits, cover your hands with a glove or clean cloth. Every kit should come with spare lamps in the case. If you need help changing a lamp, please call APS (x5506) or stop by during open APS hours.
Know Your Circuits
These lights require a lot of power. Each house is divided into multiple circuits, as controlled by a circuit board, and each circuit has a capacity. Overloading a circuit will cause a blow-out and potential damage. Use the formula below to calculate the wattage a circuit is capable of supporting, without accidents:
AMPS x VOLTS = WATTS
Common household plugs are typically 15-20 amps circuits. Household voltage capacity is 110-120V, so for the purpose of this equation it's a good idea to round down to an even 100V to prevent any blow-outs. In an average house, each circuit is capable of supporting approximately 1500 Watts (15 x 100 = 1500). This is a conservative estimate and will be different per location.
ARRI 1000W 3-LIGHT KIT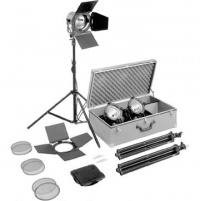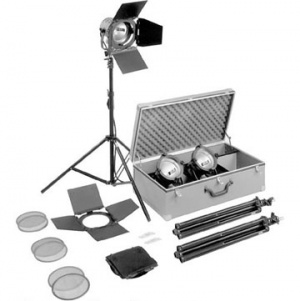 The Arri 1000 Watt Focusing Flood Light is designed for a wide range of film and photographic lighting applications. The 1000 provides beam angles of 65° in the flood position and 24° in the spot position.
Each fixture will throw a beam of 695 footcandles 4.3 ft (1.4 m) in diameter, @ full spot, from a distance of 10 ft (3 m). It will provide a beam of 145 footcandles 13 ft (4m) in diameter @ full flood, from the same distance.
This is a three light, 3000 watt, 120 volt kit, including barndoor sets, bulbs, scrims, light stands and a wheeled case. Thermoplastic housing keeps relatively cool
ARRI 650W 3-LIGHT KIT
The Arrilite 650 is an open face, focusing tungsten floodlight ideal for field production and fast turnaround location use. The reflector gives a balance between controllability, efficiency and provides an exceptionally even field of illumination.It includes barndoor sets, bulbs, light stands, scrims and a case.
The Arrlite 650 will throw a beam of 450 footcandles 4.3 ft in diameter @ full spot, from a distance of 10 ft. It will provide a beam of 100 footcandles, 14 ft diameter @ full flood, from the same distance. A 7.25" open face provides beam angles of 70° in the flood position, and 26° in the spot position.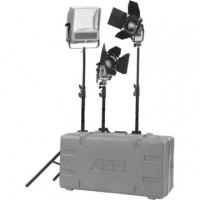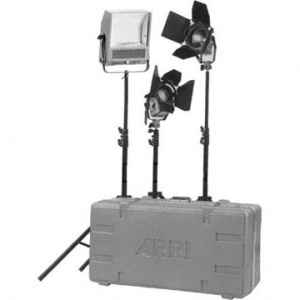 ARRI SOFTKEY KIT
The small size and light weight of the Arrisoft 1000 make it an excellent solution for that soft-fill or a main light, especially in situations where bulky soft boxes would not be the fixture of choice. The Arrisoft has a narrow profile of only 5.5" deep, and interchangeable reflectors that allow the user to change the "mood" of the light.
This kit includes two 650W Fresnel lights, a focusable spotlight used in film and television which can be adjusted via a knob on the back of the light from "spot" for a narrowly focused beam, to "flood" for a wider beam. The beam angle in the flood position is 52 degrees, and a narrow 14.5 degrees in the spot position. The Arri 650 has a 4.3" low expansion, borosillicate fresnel lens which casts a soft, even illumination across the beam.
LOWEL CASELITES
Lowel Caselites are designed to offer beautiful, soft, easy to use fluorescents in a compact, location friendly system. The current popularity of fluorescent lights in film & video production is well deserved. They offer cool, soft and efficient light at several times the output of incandescent halogen sources.
Caselites are compact, lightweight, rugged and completely self-contained without sacrificing output or light quality. The all-in-one Caselite is both light and case combined. APS carries both 5300K (daylight) and 3000K (tungsten) compact flourescent lamps.
MICKEY MOLES
Each kit contains four 1,000 watt tungsten balanced quartz instruments. The instruments allow for spot to flood adjustments. Also available with the Mickey Moles are stands and accessory kits which include barn doors, scrims, dichroic conversion filters (which will balance tungsten light color to approximate daylight), and filter holders. This kit should meet most of your heavy duty lighting needs.
TEENIE MOLES
The Teenie Moles are a smaller version of the Mickey Moles. They are also open-face floodlights and have the same temperature, adjustments, and separate accessories available. A separate stand kit is also needed to fully utilize these lights.
TEENIE-WEENIE MOLES
Teenie-Weenie Moles This is half a step down from the Teenie Moles. Designed especially for the traveling camera person. A kit contains three 600 watt tungsten balanced open-face lights.
MINI MOLES
This kit contains four 200 watt tungsten balance instruments. The lights are small, have a fresnel lens, and come with snoots and aperture plates for better control of light. The inclusion of small desk stands make this kit perfect for 3D animation projects. The instruments can also be mounted on C-Stands for use in animation or as a small kick light hidden in a set.
MOLEFAYS
This is a good lighting instrument for outdoor use as a fill light when using the sun as a key light source. Each kit is slightly different, one has 2-2 light Molefays, another has 1-2 light Molefays and accessories, and the third has 2-1 light Molefays and accessories. Each dichroic filtered lamp is rated at 605 watts and approximates 5,600 K daylight. Each kit requires separate light stands.
8-TUBE MOLESCENT
This is a very large light and holds 8 total fluorescent bulbs. The color temperature that we equip with the 8-Tube Molescent is CW (cool white). Each bulb is 15W each, which equals a total output of 120W for this instrument. Four bulbs can be operated at a time, which allows for more control of the output (60W-120W). The light this provides is diffuse and rather soft, and is a good instrument to match office or classroom lighting. Large frames for gels are provided with this light, as well as a wheeled junior-spud stand.
COLORTRAN 3-LIGHT KIT (500W / 750W)
This kit comes with three lights: two Colortran Mini-Lites (500W), and one open-face instrument (750W). There are also three gaffer grip clamps and two stands. The clamps allow you to mount the lights to various surfaces and structures, which makes this kit very versatile. The Mini-Lites are very compact and are ideal for small sets. Each light in this kit is capable of supporting up to 1000W lamps.
2K BABY "ZIP" SOFTLITE (1000W / 2000W)
Number of lights: 1 Wattage: 1000W / 2000W Accessories: Designed to fill the need for a small compact Softlight with high performance for locations and small sets where space is at a minimum. All the light comes indirect and unobstructed from diffuse surfaces. This instrument has two 1000W lamps and two switches to control them separately, allowing for 1000W or 2000W output.
MOLEQUARTS DOUBLE BROAD (1000W / 2000W)
This instrument comes with two switchable 1000W lamps. It provides soft, even fill light in a rectangular field with edge-to-edge and top-to-bottom uniformity. The Double Broad can be used as a key or fill light source. Separate stand required.