Activating plugins - WordPress
From Help Wiki
Blogs.evergreen.edu has several plugins that can be activated for use in your site.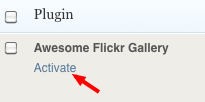 To activate a plugin:
Login to your site and go to your dashboard
From the menu choose Plugins > Installed Plugins
Click the Activate link for the plugin you want to use.

Note: once a plugin has become activated the link now prompts to Deactivate. make sure to turn off any plugins you are no longer using.

The Vist plugin site link is a great way to learn how to use the plugin.