COM 107 Recital Hall
From Help Wiki
The Recital Hall is Evergreen's 200 seat auditorium that hosts music, drama, dance, film, and lectures.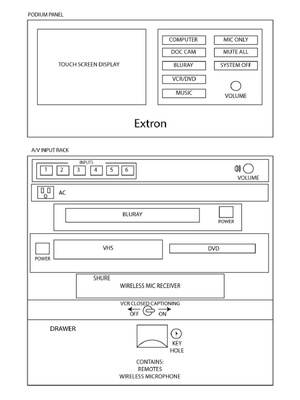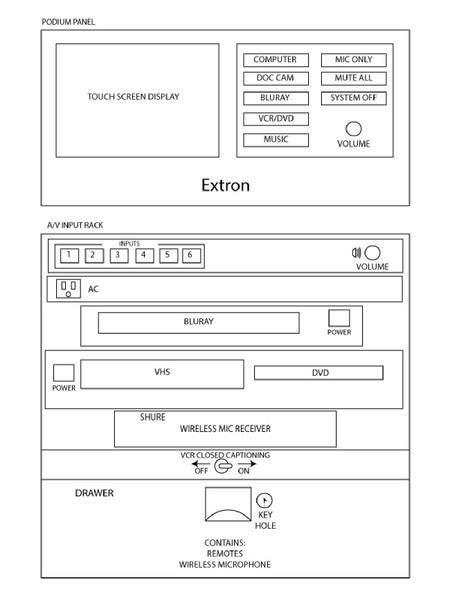 above image has minor differences from the Recital Hall podium
Computer
Press the 'Computer' button on the AV control panel.
Select any of the three options from the touch screen console 'Mac Mini,' 'HDMI,' or 'VGA'.
Attach the HDMI or VGA cable to your laptop, be sure to include the audio cable for VGA.
Document Camera
Press the 'Document Camera' button on the AV control panel
Turn on the Document Camera. Be patient, this can take up to a minute to warm up. Blue light = on, orangish = off, other color = call for help
Bluray
Press the 'Bluray' button on the console attached to the podium.
Select the 'Open' button on the Bluray player.
Insert your Bluray disc into the tray and close it.
navigate the disc with the controls on the touch panel
VCR/DVD
note: DVD only plays in 4:3 - use the Blu-ray player if you have a widescreen DVD
Press the 'VCR/DVD' button on the console attached to the podium.
Insert your VHS or DVD into the tape slot or tray
Use the AV control panel to control playback
Closed Caption can be enabled via the toggle switch in the top of the podium equipment rack
Auxiliary
Auxiliary provides access to the Mezzanine and Projection Room (212A) source inputs
Press the 'auxiliary' button to choose which source
Press 'Mic' (also seen as 'Mic Only') button on the AV Control Panel.
Mute/UnMute and Volume for the podium mic, (2) handheld mics from the podium drawer, and wired mic inputs can be controlled here.
Mute
Press the 'Mute' button on the AV Control Panel to dark the screen and silence the media sounds (mics are still live, those can be muted via the mic button)
If you press the button again the image and sound should come back.
System Off
The 'System Off' button gives you 3 options (that look like 4)

Cancel (both cancel buttons go right back to whatever you were doing before)
Turn off the system (set everything back to start and turn off the projector)
Turn off the projector (everything stays were it is, except the projector turns off - useful if you are reviewing audio or practicing to tracks but have no video, or just dont appreciate the bright spot from up above the mezzanine).
AV Control Panels
There are (3) AV control touchpanels:
One is on the stage podium
One is in 212A on the rack
The last is removable, and can be used in the Mezzanine, or stored in 212A on the rack shelf so wayward curiosity or trickster fingers don't lose a battle to temptation during a performance or presentation