COM 320 & 323 are exactly the same. They only have simple wall panels and media equipment. Need help using equipment call Media Services @ 6270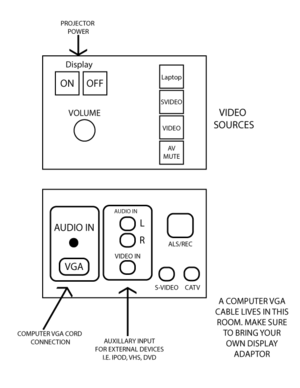 Computer
Connect your computer using the VGA/audio cord to the VGA input panel.
Turn on the projector by pressing the display power 'ON button on the panel.
Select Laptop for your video source.
Use the volume knob and your computer volume to control the audio level.
Auxiliary Input
Can be used for external DVD, VHS, or IPOD like devices.
Connect an RCA audio or Video input
Select the VIDEO source
Turn on the projector by pressing the display power 'ON button on the panel.
Use the volume knob to control volume