Create New Site - First Time in WordPress
From Help Wiki
I'm new to blogs.evergreen.edu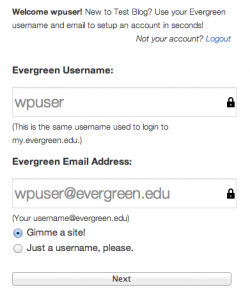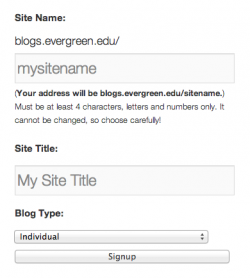 Create a blogs.evergreen.edu accoun
Navigate a web browser to the blogs.evergreen.edu create a new account
In the Username field, enter your Evergreen username. This must be your Evergreen username (i.e. greima01). See Figure 1
Enter your Evergreen email address (even if you have forwarding setup)
If you only want to create an account and do not need to set up a blog choose Just a username and you're done!
Setting up a new blog
f you also want to craete a new blog site select Gimme a blog! and click Next
Enter the Site Name - this will become part of your unique URL or web address and cannot be changed. See Figure 2
Enter the Site Title - this will be used in the header section of your site and can be changed later
Choose your privacy settings (will you allow search engines to index this site?). You can always change this later.
From the drop-down menu choose the blog type: Program/Course, Individual, Group or Other.
Click Signup. You should now be ready to login to your new blog.
Need More Help?
WordPress Tutorial - for a step-by-step tutorial to get you started
FAQs - common questions about using WordPress at Evergreen
---
Still have questions or problems with WordPress, send Academic Computing a message or call the Computer Center at 360-867-6227.