File Management - Audition
From Help Wiki
File management with any media project is the most important step in post production.
Following these steps will save you and your project from unneeded stress and major file corruption.
In the Finder
Always make a project folder with your name, project description, and date within the name field
Use safe file and folder naming practices: use text, numbers, and hyphens or underscores. Avoid all other special characters.
Copy your folder that contains all your original field recordings into this project folder as well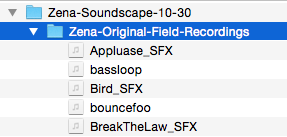 In Audition
Open the software Audition located in the dock - go to File > New > Multitrack Session
Name your project following the naming protocol, select Browse to choose the location of your project folder. Set your sample rate 48 Hz, 24 bits, and Stereo
Your finished project folder should look like this. All of your files are now contained in one folder and you can safely work, transfer, save and back up your project as long as it stays in one folder