If you requested forums be activated when your site was created, the BBPress plugin was activated and a Private Forums Index page was created for your site. Discussion forums should be set to private to protect student data.
To create a new discussion forum
Access the Admin Dashboard of your site and go to Forums > New Forum
Title your forum and add a description if you like.
Set the forum visibility to Private so that only registered users of your site (your students) have access to view or post to this forum.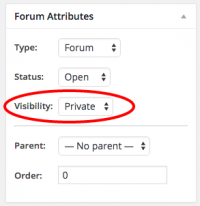 Still have WordPress questions?