Difference between revisions of "Get Started: Define Your Individual Study Contract"
From Help Wiki
---
Revision as of 10:49, 2 September 2015
Welcome to the ILC and INT Quick Start Guide for Students. If you are having trouble with the new system please review the help articles listed below or contact us at help.evergreen.edu.
Students
You can author your contract directly online or bring content over from a Google Doc or Word document via copy/paste

Login at my.evergreen.edu
Click on Individual Study Contracts
Create a title and select a term to start a new contract
Click the Start button at the top of the screen
Define your contract and fill in the required information for all fields
You can save your progress by hitting "Save" at anytime
Click Return to Summary to return to the summary landing page where you can view your progress

When you are done creating a draft contract, your summary page should look like the image below. You are now ready to move to the next stage, Collecting Feedback.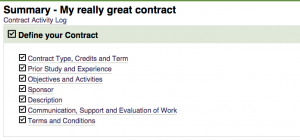 Contract Stages
Define Contract
Accept Conditions
Register Your Contract