How to Setup Your Zoom Account in Canvas for the First Time
From Help Wiki

For Faculty: How to launch Zoom for the first-time inside Canvas to auto-provision your Zoom Pro account.
You only need to do this once.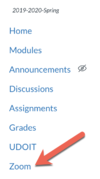 Getting Started
Go to your Canvas course
Click Zoom from your course navigation
Setup your Zoom Account
If you do not already have a Zoom Pro account you will be asked to Activate your Zoom Account
Create your Zoom account Name and Password

Note: your Zoom password should not be the same as your MyEvergreen account password. Please save your password in one of the recommended password management tools.
Next steps: Schedule a Zoom Meeting in Your Canvas Course