How to Submit a Support Request
From Help Wiki

Learn how to submit a new Help Request and manage your existing requests.
Submit a New Help Request
---
I am able to log in with an Evergreen account
There are two ways to submit a help request:
1. Via Direct Link
2. Navigating the Help Request User Portal
Evergreen's Help Request User Portal provides links to common help request forms.
Log in at kace.evergreen.edu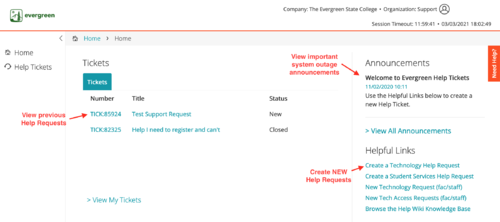 ---
I can't log in or don't have an Evergreen account
Use the Guest help Request form, support staff will follow-up with you shortly
Make sure to include an email address and/or phone number where the staff member can reach you.
Manage/View Previous Help Requests