Interrogating Emotions - Uploading Images
From Help Wiki
Camera Settings
Format the memory card to erase all images before shooting.
Confirm the resolution is the highest for the camera you will be shooting with. (12M is the largest for the Olympus point and shoots from Media Loan).
Confirm the Aspect Ratio is set to be 3:2.
When uploading images in the Multimedia Lab, Library 1404, use the provided card reader at the station to import images.
After images have been saved to the computer, and before you return equipment to Media Loan, reformat the memory card.
---
---
---
Insert images into WordPress posts or pages.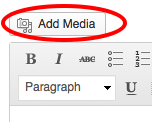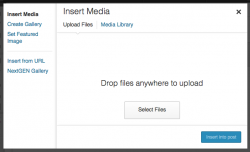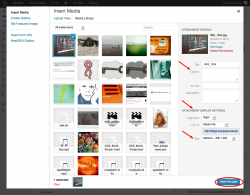 Uploading Images To Wordpress
While editing your post or page, place the cursor in the page where you'd like the image inserted.
Click on theAdd Media icon (figure 1) and select an image from your computer (Select Files)
Customize the image size, alignment, caption
Click Insert into post
Edit image properties afterwards
You can customize how the image looks once you upload it.
Clicking on the image once in your page or post then click the edit image icon. This will bring up the dialog box you saw when you first uploaded the image (figure 3).
From here you can realign, resize and add a caption.
Still have WordPress questions?
---
Image Galleries
Three methods for adding image galleries to your WordPress site are currently available at blogs.evergreen.edu.
For local storage of your images
You can use the following gallery tools (remember you only have 100MB of storage space on your blogs.evergreen.edu site):
For embedding cloud-based image gallery solutions
Awesome Flickr Gallery Quickly and easily incorporate your Flickr photos and galleries into your WordPress pages and posts.
See the demo site
Check out examples of each of the above gallery types at http://blogs.evergreen.edu/imagegalleries/