Pentax 645Z Digital Medium Format Gear Guide
From Help Wiki
INTRODUCTION
The Pentax 645Z is a digital medium format camera. It is equipped with a 51.4MP censor, which was designed without an anti-aliasing filter to maximize sharpness and details. Its wide ISO range provides low noise, low light capability, and the image processor allows for fast image capture.
It is the only one of its kind at Media Loan, and access to it is very limited. Only certain approved photography classes are permitted to use it. A proficiency test is required to use it, which can be found here.
MEDIUM FORMAT
Simply put, a medium format camera has a larger sensor than other standard DSLR cameras. A bigger sensor means bigger pixel size, which means better quality. The Pentax 645Z has 3-4x more frame surface than sensors equipped on Canon Rebel DSLRs, which means stills taken with the Pentax can be enlarged significantly without losing quality.
Medium format cameras also have no perspective distortion - images taken more closely resemble the way the human eye sees the real world. The field of field is much wider than other cameras with standard cropped sensors. Let's say you're shooting on a 6x7 medium format camera with a 50mm lens. If you compare your images to a 35mm camera (also with a 50mm lens), the field of view will be different. The medium format pictures will actually see what a 24mm lens on a 35mm camera would see. Simply put: the larger the format, the wider angle your lenses become. You can shoot a wide scene but it will have the "real-world" look of a lens with a longer focal length. The subject remains proportional and not "stretched-out".
SPECIFICATIONS
Sensor 43.8 x 32.8 mm CMOS
Color Depth JPEG: 8 bits/channel RAW: 14 bits/channel
Effective Pixels / Total Pixels 51.4MP / 52.99MP
File Formats Stills: RAW (PEF/DNG), TIFF, JPEG (Exif 2.30), DCF2.0 compliant Video: MPEG-4 AVC/H.264 (MOV) *Motion JPEG (AVI) for Interval Movie Record
Image Resolution JPEG: L (51M: 8256 x 6192), M (36M: 6912 x 5184), S (21M: 5376 x 4032), XS (3M:1920 x 1440) RAW: L (51M: 8256 x 6192) TIFF: L (51M: 8256 x 6192)
Video Resolution Full HD: (1920x1080, 60i/50i/30p/25p/24p) HD: (1280x720, 60p/50p/30p/25p/24p)
Lens Mount Pentax 645AF2
Metering Modes Multi-segment metering, center-weighted metering, spot metering
Shutter Speeds Auto: 1/4000 to 30 sec. Manual: 1/4000 to 30 sec. Bulb
Drive Modes Single, Continuous (H, L), Self-timer (12 sec., 2sec.), Remote Control (immediately, 3 sec., continuous), Multi-exposure (avail. w/Continuous, Self-timer or Remote Control), Interval Shooting, Interval Composite
Burst Rate 3 fps, JPEG: up to 30 frames, RAW: up to 10 frames, TIFF: up to 12 frames
AF (auto-focus) Modes Single (AF.S), Continuous AF (AF.C), Manual
ISO Sensitivity 100 – 204,800
CARE
Please do not attempt to clean sensitive parts of this camera, such as the mirror and sensor, yourself. If these need to be cleaned, please bring them to Media Loan so that we may assist you.
DO NOT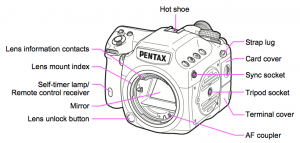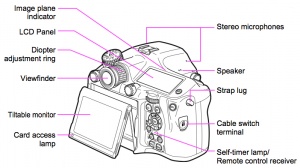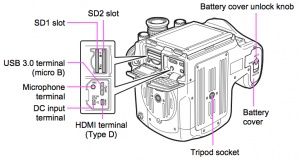 Drop this camera
Point towards the sun Expose to extreme weather conditions
Store/use in extreme temperatures
Store near corrosive chemicals
Clean the censor or mirror yourself
Use a blow dryer to blow dust from the camera
Use excessive force
Leave unattended
Leave camera near a strong magnetic field
Submerge this camera in water
PARTS
Diopter
You can adjust the diopter to your eyesight. This allows users with poor vision to operate this camera with wearing eye glasses or contact lenses.
To adjust the diopter: Turn the diopter adjustment ring until the focusing brackets in the viewfinder are in focus. Turn the ring clockwise for a negative value and counterclockwise for a positive value.
Monitor
This monitor can be tilted to viewing preference.
Hold the camera in one hand and the top of the monitor with the other.
Slowly lower until it stops
Hold the monitor to lift it upward
Adjust the angle accordingly
Tripod Sockets
There are two different places this camera can be mounted onto a tripod: on the bottom as well as on the side. This allows for more user control.
CONTROLS
Shutter Release
ISO
EV Compensation
Main switch: Move to turn the power on/off or to preview
Front e-dial: Changes the values for camera settings such as exposure; switch menu categories; image selection
Lens unlock: Press to detach the lens
Metering Mode Dial: Changes the metering mode
Lock: Temporarily disables e-dial and button operation
AF (auto-focus) Area: Press to change the AF point
Exposure Bracketing
RAW/Fx: You can assign a function to this button
Mode Dial Lock
Mode Dial: Changes the exposure mode
Stills/Movie Switch Dial: Switchings between still capture and move recording modes
Rear e-dial: Changes the values to camera settings such as exposure; switch menu tabs; change camera settings; magnify images
AF Mode Dial: Switches AF modes (AF.S/C)
Mirror Up Dial: Enables shooting with the mirror raised
Illumination: Illuminates LCD panel
AE Lock: Locks exposure value; saves JPEG to RAW
AF: Available for adjusting focus, instead of pressing shutter release halfway
OK
Four-way Controller: Displays the Drive Mode, Flash Mode, White Balance or Custom Image setup menu; move cursor or selected list item
AF Point Change/Card Slow Switch: Press to enable changing AF point; switch memory cards in playback mode
Green: Reset the values being adjusted; switches to ISO AUTO
Live View/REC/Delete: Displays Live View image on monitor; stars/stops recording in movie move; delete images during playback
INFO: Changes style of display on monitor
MENU
Playback
LENS ATTACHMENT
Make sure the camera is off.
Remove the body mount cap. Press down the lens unlock button (3) and remove cap.
Align the lens mount index (red dots) on the body and lens, and turn the lens clockwise. Do not press the lens unlock at this time.

To remove: Turn the lens counterclockwise while holding down the lens unlock button.