Difference between revisions of "Pidgin Chat Client for Windows"
From Help Wiki
Line 13:
Line 13:
 

#*Password = your evergreen password

 

#*Password = your evergreen password

 

#Click '''Add'''

 

#Click '''Add'''

 
+
 
+
 
+
 
+
 
 
 

===Join a Group Chat===

 

===Join a Group Chat===
---
Revision as of 18:42, 14 July 2010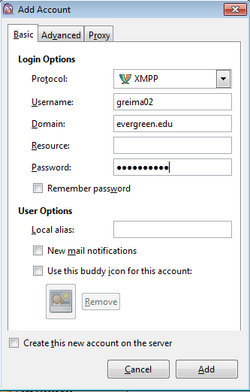 Add a new Account
Download and install Pidgin
Launch Pidgin and add an XMPP (jabber) account by going Accounts > Manage Accounts
Click the Add button
Set the following for your new account Figure 1

Protocol = XMPP
Username = your_evergreen_login
Domain = evergreen.edu
Password = your evergreen password

Click Add
Still having problems connecting?
We have identified a solution for Comcast users that are experiencing problems with chat. Comcast's DNS servers may be causing some students to not be able to connect to Evergreen's chat server. There is nothing we can do on our end to correct this and Comcast is aware of the problem. Students who are experiencing this problem can change their network settings to use a different DNS server. We are recommending students use Google Public DNS. Details and instructions on how to configure your computer to use Google DNS are [here.]
Join a Group Chat
Once you've created an account you can add an existing group chat to your Buddy List
From the Buddy List window go Buddies > Add Chat
Enter the Chat room name you'd like to join (your faculty should provide this)
Enter the Server name: programs.evergreen.edu
Handle is the name others will see when you're in the chat room
If the chat room is password protected you may need to enter the Chat Room password here (your faculty should provide this). Note: This is NOT your evergreen password.
Alias and Group let you control how the chat room is listed in your Buddy List

Once you've setup your account and chat room the next time you want connect to your chat room simply launch Pidgin and then double click your chatroom from the Buddy List window.
Update your chat profile/picture
Go Accounts > Manage Accounts
Select the account you'd like to manage and click Modify
Check Use this buddy icon box and click the icon to choose a new image from your hard drive
Save chat transcripts or logs
Set preferences to log chats
Go Tools > Preferences > Logging
Choose General
Check "Log all chats"
View chat logs
Connect to the chat room you'd like to see the logs for (Buddies > Join a chat)
From the top menu choose Conversation > View Log
Click Browse logs folder to locate the .txt file of these logs.