Pidgin Chat Client for Windows
From Help Wiki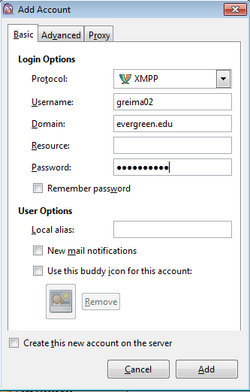 Add a new Account
Download and install Pidgin
Launch Pidgin and add an XMPP (jabber) account by going Accounts > Manage Accounts
Click the Add button
Set the following for your new account Figure 1
Protocol = XMPP
Username = your_evergreen_login
Domain = pink.evergreen.edu
Password = your evergreen password

Click Add
Join a Group Chat
Once you've created an account you can join an existing group chat
Go Buddies > Join a Chat
Enter the Chat room name you'd like to join
Handle is the name others will see when you're in the chat room
If the chat room is password protected you may need to enter the Chat Room password here. Note: This is NOT your evergreen password.
Update your chat profile/picture
Go Accounts > Manage Accounts
Select the account you'd like to manage and click Modify
Check Use this buddy icon box and click the icon to choose a new image from your hard drive
Save chat transcripts or logs
Set preferences to log chats
Go Tools > Preferences > Logging
Choose General
Check "Log all chats"
View chat logs
Connect to the chat room you'd like to see the logs for (Buddies > Join a chat)web
Select the chat from the left hand column you'd like to view the transcript for
From the top menu choose Conversation > View Log
Click Browse logs folder to locate the .txt file of these logs.