Printing Evaluations
From Help Wiki
The new evaluation system allows you to complete your evaluations and submit them online. If you need to print a paper copy for an evaluation conference, please follow the steps below.

Please note that printing out an evaluation is not the same as submitting one. All evaluations must be turned in online.
To access the evaluation system, login at my.evergreen.edu and click on "Evaluations"
Click on the name of the academic program that you want to print an evaluation for
Go to File > Print from your web browser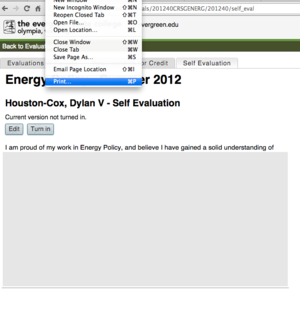 Content is available under CC-BY-SA unless otherwise noted.