Schedule a Zoom Meeting in Your Canvas Course
From Help Wiki

For Faculty: How to schedule a Zoom Meeting in your Canvas course.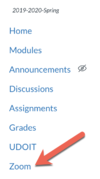 Getting Started
Go to your Canvas course
Click Zoom from your course navigation
Enter your meeting settings
Topic: the title of your meeting
When: date and time of the meeting
Duration: total amount of time the meeting will run for (you can enter a meeting early)
Recurring meeting: meetings that will be used more than once in the course (e.g., weekly discussion meetings)
Video Host/Participant: select whether you'd like your/your participants' video to be automatically turned on or off

recommend setting this to off so as not to surprise participants entering the meeting
Meeting Options
Mute participants upon entry'
Do not check Use Personal Meeting ID

Using a Personal Meeting ID will cause problems when Zoom cloud recording are imported into Panopto

If you'd like recordings of the meeting, select "Record the meeting automatically" and save the recording in the cloud
Click Save. You will now see the meeting appear under 'Upcoming Meetings'
Alternative Hosts: enter the email address of your teaching partner or TA if you'd like them to be able to start the meeting without you

Note: originally this setting auto-populated all course faculty as alternate hosts. This was turned off in Summer 2020 to provide more flexibility around who could be assigned as an alternate host.
Additional Resources