Exporting Blog Entries - Wordpress
From Help Wiki
If you're leaving Evergreen as a student, your blog will be deleted after a certain period. But fear not! You can export your blog entries to a file that can be imported to another blog.
Exporting Your Blog From Wordpress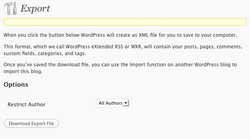 Login to your blog's dashboard at http://blogs.evergreen.edu/
From the main navigation, select the Tools tab
Next choose Export and click the Download Export File button to create an XML file for you to save to your computer.
This format will contain your:
posts
pages
comments
custom fields
categories
tags
This format will NOT save any media files including images, video and audio files. You must save those separately.
Once you've saved the download file, you can use the Import function on another WordPress blog to import this blog.