Difference between revisions of "Links -WordPress"
From Help Wiki
m

m

Line 26:
Line 26:
 

#Click '''Save'''  

 

#Click '''Save'''  

 
 
 
+
 

[[Category:Wordpress]]

 

[[Category:Wordpress]]
---
Revision as of 15:52, 1 April 2013

You can create a list of external links in your sidebar. These links will be displayed on every page of your site.
Create a new link

From the dashboard of your site navigate to Links > Add New
Fill out the Name of your link (this is what people will see to click on)
Enter the web address including the http:// Tip: navigate to the site you're linking to in another tab and copy the url exactly. Paste it into web address field.
Add the link to a link category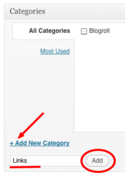 Having multiple categories allows you to display individual link categories in unique sections of your sidebar.
Click Add new category (you'll only need to add a category the first time you do this)
Name your category. The link category name will become the header for your list of links in the sidebar.
Click Add to add your link category. Note: the link is automatically assigned to that new category
Save your link by clicking the blue "Update Link" button

Links are displayed in sidebar widgets.
From your dashboard go to Appearance > Widgets
From the Available Widgets panel drag and drop the Links widget over to the the right into the appropriate sidebar for your theme. A dashed box will appear when you can drop the widget. Note: Some themes have different available sidebar areas.

Expand the link widget's panel by click it's expand triangle

From the drop-down choose the link category you'd like displayed in this section
Click Save
Need More Help?
WordPress Tutorial - for a step-by-step tutorial to get you started
FAQs - common questions about using WordPress at Evergreen
---
Still have questions or problems with WordPress, send Academic Computing a message or call the Computer Center at 360-867-6227.