My Evergreen Account Help
From Help Wiki
This article defines the default Evergreen login and password if you are a current student and have not yet logged in and activated your account.
E-Learning For Educators program participants please use The E-Learning For Educators Contact Form for login help.
Former Students and Alumni should contact Registration and Records for help resetting passwords or activating accounts.
Faculty and staff need to contact the faculty and staff help desk for help resolving account issues.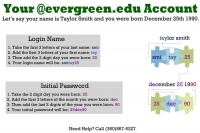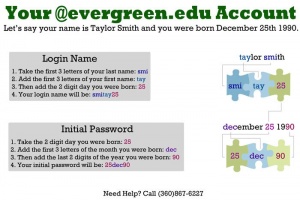 Current Student Login Help
What is my student login?
Take the first 3 letters of your last name
add the first 3 letters of your first name
add the 2 digit day of the month you were born
What is my default student password?
Take the 2 digit day you were born (the same two numbers that end your login)
add the first three letters of the month you were born in (all lower case)
add the last 2 digits of the year you were born in
Video: Current Student Initial Login