Webmail Overview (Legacy 2010)
From Help Wiki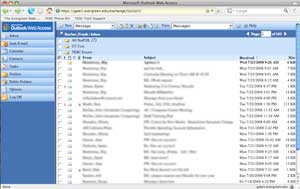 Webmail allows you to access your email from any computer connected to the Internet. No special email software is required, any web browser will work (Firefox, Safari, Explorer, etc.). It's a useful way to get to your email if you're on a friends computer, in a computer lab, or otherwise on the go!
While not as full-featured as a specialized "email client" - you'll be able to check your mail and accomplish other useful things. For instance, webmail also allows you to access your calendar, contacts, public folders and other mailbox items stored on the campus Exchange mail server.
"Webmail" is a generic term for any email service that you can check through a web page. Lots of organizations try to offer web page access to email accounts. Some companies are in the business of providing free webmail accounts to the general public. For example, Google offers a popular webmail service called Gmail.
For more information as to how to get to your Evergreen webmail client, go to Connect to Webmail