Intro
There are two 2D Animation Labs.
Both have the main animation stands set up identically.
The Library 2D Rotoscope Lab (L1408) has and additional rotoscoping set-up.
The Com 2D Multi-Use Lab (Com 309) has a second messy stand.
Quiz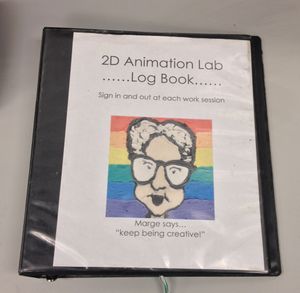 Log Book
Every time you enter the lab please sign in and record the following information:

Your name
Materials used (paper, pencil, pen, paint, sand cut-out, etc....)
Equipment used (compound table, paper punch, computer, sand stand, rotoscope table)
Record any technical problems (so we can fix it)
Status of the lab: clean, messy, is anything missing or broken?

This is the main form of communication between you and the animation staff who maintain and audit the space every week. Failure to sign in to the Log Book will result in a loss of access privileges.
Scheduling
You must always have time reserved when using the labs. Only use your scheduled time.
Regular scheduling should be done through Media Loan along with key checkout.
It is your responsibility to confirm your reservation time, day and that you are in the correct room by asking for a receipt.
Library 2D Rotoscope Lab (L1408) is available anytime.
The Com 2D Multi-Use Lab (Com 309) is limited by the Com Building hours. You need Com Building Late Night Access to stay after hours.
If you need a substantial amount of time contact animation staff for scheduling.
You may lose your scheduled time if you are more than 15 minutes late, and whenever possible, please cancel any time that you will not use.
Keys
Check out a key from Media Loan prior to your reservation and promptly return it afterwards.
Do not use keys to gain access outside of your scheduled time.
You are financially responsible for the room and its contents.
Lost or stolen keys must be reported immediately to both Media Loan and Animation staff.
Support
Need Help? Please do not attempt to unplug or re-wire anything, especially if you think you know what you are doing. Check the Troubleshooting Guide and see if you can find your answers there. Flip through the Log Book to see if anyone else has experienced the same problem and if a solution was found. If that fails, contact one of the following offices:
Multimedia Lab, L1404, 360-867-5455
Animation Lab Aide Office Com 311D, 360-867-7448
Media Loan, L2502, 360-867-6253
Aaron Kruse, L1520, 360-867-6842
email at animation@evergreen.edu
Lab Peripherals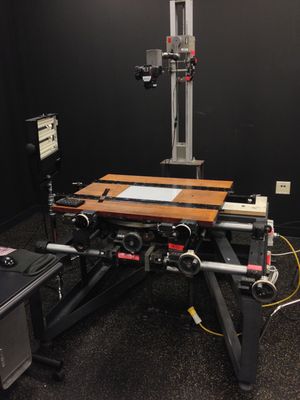 Main Animation Stand
The animation table is a compound table that uses calibrated gears and tracks to incrementally adjust N/E/S/W directions and rotation.
Never use sand, liquids, glitter, or other messy materials near or on this table as it will permanently damage it.
If you need to use messy materials, you must first contact animation staff and then use the Messy Stand (COM 2D Multi-Use Lab only)
Zoom positioning is controlled by carefully adjusting the camera arm up/down by releasing the lock and slowly turning the crank.
Do not overtighten the locks or pull on the track - use the provided cranks.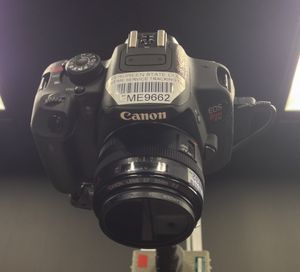 Camera
A Canon Rebel is permanently attached to the top of the animation stand.
All the menu and camera settings are adjusted through the Dragonframe software.
Do not remove the camera from the stand or attempt to adjust any settings.
Turn the camera switch on during shooting, and switch it off when you are done.
Lens
The camera is installed with a 35mm prime lens and linear polarizing filter.
Adjust focus and polarizing filter rotation position to reduce glare.
Never touch the lens surface, or attempt to clean it - get a staff member to help you.
Lights
Overhead lights are adjusted at a 45 degree angle, and a backlight is located underneath the table.
Turn on the lights using the provided power strips.
To reduce glare make sure all room lights are off while shooting, and wear black clothing to reduce reflections onto artwork.
If there is a burned out bulb contact animation staff - do not replace burned out bulbs yourself.
Platen
The platen is an attachment to the Main Animation Stand that is used to flatten artwork. This item is available by contacting animation staff.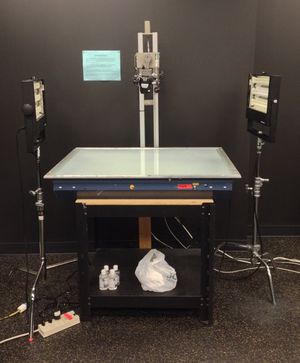 Messy Stand
Located in the 2D Multi-Use Lab, Com 309, for animating sand and other messy liquid materials.
Make sure the installed camera on the main animation stand is turned off.
Rotoscoping Station
See the Rotoscope Station article.
Acme Hole Punch
The Acme hole puncher is a calibrated registration system that is the industry standard.
Pre-punch materials before animation to ensure registration of drawings.
Do not punch more than 3 cels or 5 pages of paper at once, or use non-standard materials - they will clog the blades.
There is a hole punch in each 2D Lab, the Multimedia Lab (L1404) and the Design Lab (Com 408)
File Management
Save all your files in a folder labeled with your name on the Storage drive, or your home folder to keep them private.
Files can be deleted at any time to free up space, and everything will be deleted on Thursday of Evaluation week.
When you are done with your session, backup files to a server, a personal hard drive, or etc...
Do not work directly off of a server - only copy to or from it and then disconnect from the server while working.
General Use Expectations
There are absolutely no food or drinks of any kind allowed in the labs. Leave them stored outside the door.
Take care of yourself and remember to take a break once in a while.
Please recycle your paper scraps in the corresponding bins. Garbage cans are located down the hall.
Clean up after yourself. There are cleaning supplies provided for your use next to the door. If you run out of time for cleaning up, you are expected to come back later to clean.
Do not delete other peoples' files or mess with any settings, postings, in the lab or on the computer.
Do not unplug or remove anything from the space without asking - including cables or registration pegs alike.
Be courteous and respectful to the lab aides as well as your fellow animators, and abide by the campus code of conduct. We are here to help you and make sure that everything is in working order so that everyone has equal access to these facilities.
When you are done

Clean up and restore the room back to normal
Log out of the logbook and record any notes
Turn off the camera power, shut down the computer, lights, and equipment
Promptly return your keys to Media Loan
2D Lab Checklist
Every time you use the lab remember to follow the 2D Lab checklist.
Dragonframe