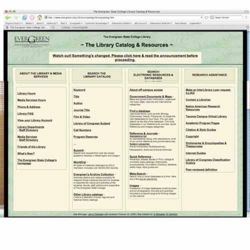 The Library's Front Page
The catalog page is the entry portal to all of the library's goods and services.
You can use the catalog to search Evergreen's physical collections, to search and request materials from the Summit borrowing consortium, and to access online services, depending on the status of your library account.
Going through the catalog as a portal to your online research is important whether you are on campus, at home, or overseas. The catalog page delivers institutional passwords that we never see to facilitate our access to subscription services.
---
---