Microsoft Teams Classes Canvas Integration
From Help Wiki

Connecting a Microsoft Team to your Canvas course adds a rich set of collaboration and communication tools. Learn how to set up the Teams Canvas integration and best practices for using Teams in your teaching.
Before you get started, make sure you have a Canvas course created for your offering.
Using Teams and Canvas with your students
Benefits
Integrates with Canvas
Large file storage capacity
Student groups – create a channel for student groups
Individual and group chat to create community
The mobile app replaces the need to share cell numbers for texting
Data security and risk management: M365 is our official supported platform. Use M365 instead of Slack or Google
Communication
A common strategy is to use Team posts for faculty and students to share news and announcements.
Teams chat connects students to faculty and each other in a secure, college-supported application.
Encourage your students to get the Teams mobile app.
Collaboration and File Sharing
Uploading files to the Team will automatically make those files available to all class members and will be stored in the Team's SharePoint library. This is often an easier way to share files than using the Office365 Canvas integration which connects to the faculty's personal OneDrive.
Create channels based on topics or workgroups to create easy file/application sharing and collaboration.
If needed, up to 20 private channels can be created with assigned membership. Private channels have limitations so when in doubt, don't make it private.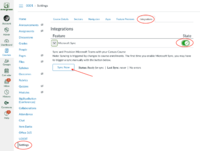 Enable the Teams Sync in Canvas
Teams Sync will automatically add faculty and students to your Team and keep synchronized with your Canvas course enrollment.
Navigate to your Canvas course
From your Canvas course, left-hand navigation menu go to Settings
From the top menu tabs choose Integrations
Expand the Microsoft Sync option and enable it under the State toggle
The first time you enable Sync you will need to trigger it manually

Click the Sync Now button
This will initiate the creation of your Class Team which may take up to an hour to generate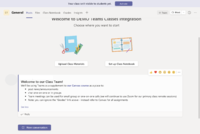 Prepare your Team
Once your Team has been created students will not have access until you "Activate" the Team. This gives you the opportunity to prepare the Team prior to student access.
Launch the Teams app (either via the desktop app or via a web browser at office.com)
The Activity Feed will alert you when your Team has been generated.
Create a welcome post on the General channel. Consider including the following:

Clarify with your students how Teams will be used in your offering. What content/activities will reside in Canvas and what content/activities Teams will be used for.
Add a link back to your Canvas course
Example Welcome Post
Welcome to our Class Team!
We'll be using Teams as a supplement to our Canvas course <link to your Canvas home page> as a place to:
post news/announcements
chat one-on-one or in groups
Team meetings can be used for small group or one-on-one calls (we will continue to use Zoom for our primary class remote sessions)
Note: you can ignore the "Grades" link above - instead refer to Canvas for all assignments
Activate your Team
Once you are ready for students to have access to your Team:
Navigate to your Team
Click the Activate button at the top
Once the Team has been activated, students enrolled in your Canvas course will automatically be added as members of the Team. The Team roster will auto-sync whenever changes occur in your Canvas enrollment.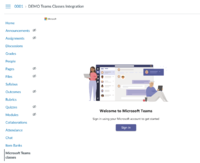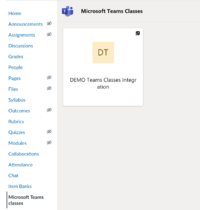 Once your navigation has been added, students can easily navigate from Canvas to Teams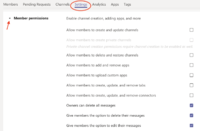 Class Team Default Permissions
As the Team owner you can manage what students (members) are allowed to do within the Team. To access these settings:
click the 3 dots next to your Team's name and choose Manage Team
Select Settings from the top navigation
Expand Member permissions - By default:

Team owners (faculty) can delete all messages
Members (students) can delete and edit their messages