STL Viewer - WordPress
From Help Wiki

The STL Viewer plugin let's you embed interactive 3D models in your WordPress site. This plugin is based on
thingiview.js
, the similar to the embed tool used at
http://www.thingiverse.com/
.
Activate the necessary plugins
The following plugins must be activated in Dashboard > Plugins
STL Viewer
AP Extended Mime Types - let's you upload .stl files to your media library
Upload .STL files to media library
The plugin will be referencing the file name of each .stl file so make sure they are unique.
If you get an error saying you don't have permission to upload this file type you need to activate the AP Extended Mime Types plugin
Add the plugin shortcode
Create a post or page and add the STL shortcode:
[stl file="blue_rabbit.stl" /]

Replace the filename with your .stl filename.
If you're not sure what the filename, go to your media library and look under the Attachment Details for your uploaded file.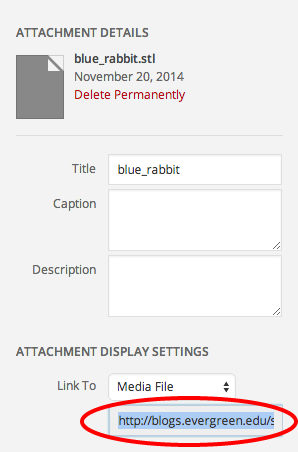 For more control of how the model is dispalyed
add more parameters to the shortcode
[stl file="blue_rabbit.stl" color="#2b56b8" background="#f8f8f8" width="100%" height="640px" /]

alternatively you can change the default settings (see below)
Change the default settings for SLT Viewer (optional)
From your Dashboard go to Settings > STL Viewer
Set the Height and Width in pixels, i.e. 300px. Alert: If these fields are not formatted properly the plugin will not work.
See the demo site
Check out example at
Still have WordPress questions?