Difference between revisions of "Video Embed - Wordpress"
From Help Wiki
m

m

Line 1:
Line 1:
 

__NOTOC__

 

__NOTOC__

 
+
 

<div class="row-fluid"><div class="span8 ">

 

<div class="row-fluid"><div class="span8 ">

 

<div class="lead">

 

<div class="lead">
---
Revision as of 10:17, 30 September 2015

You can embed a variety of video services like YouTube and Vimeo as well as your own uploaded Quicktime movies.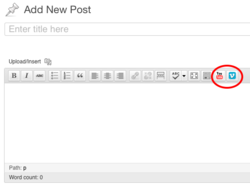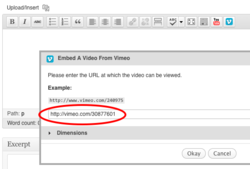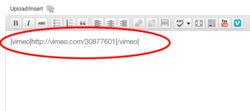 Using the Video QuickTags plugin
Embed video from a hosted video service
Upload your video to your preferred video hosting service.
Create or edit the post or page where you'd like your video to appear
From the editing toolbar click the icon for your video service (i.e. YouTube)
enter the URL to your video (the display window will show you an example URL from that service)
Note the "shortcode" that is added to your post. This short code tells WordPress what plugin to use (Vimeo or YouTube) and gives it a specific value to display (the URL to your video).
Save your changes (Update or Publish) and view your video
Upload and embed your own video
If you choose this option, keep in mind there is a 20MB per file limitation and you only have 100MB overall of file space on blogs.evergreen.edu. Uploading video to the blog server is only an option for host only a few very small videos. Anything larger will need to be hosted on a video service such a YouTube.
Upload your media to the blog server and copy the link to the location of the video file you'd like to display

If your video file is too large, you may need to make host it on another web server and simply link to the file from within Wordpress

Use the Video Quick tags available in the editing bar of your post or page
Paste the url to your video file
Enable more video types or video sites and change the default dimension sizes for displaying video
Go to Settings > Video Quicktags
Still have WordPress questions?