WordPress Tutorial for sites.evergreen.edu
From Help Wiki


Site Visibility
Settings are located in Settings > Reading. Options include:
Publicly viewable and indexed by search engines
Publicly viewable but requesting search engines to not index your site
Requires a login (must be an Evergreen community member)
Requires a login and must be a subscriber of the site (this is the option we use to limit access to enrolled students only)
Only admins of the site


Making your site visible
New sites by default are set to not be publicly viewable with the idea that faculty must time to work on the site before it becomes public.
To change your site's visibility got to Settings > Reading
Either of the top two options will open the site to visitors. Other options require an Evergreen login and varying levels of access to the site.


Enrollment
At the beginning of the quarter, enrolled students will be added as subscribers to the site
Additionally, faculty can add/remove users via Users > Add New


Users and Roles
Users added to your site can be assigned a variety of roles with different abilities.
Subscribers can view content but cannot create regular site content. This is the default role students are assigned when added to your course.
Contributors can write and manage their posts but not publish posts or upload media files.
Authors can publish and manage their own posts, and are able to upload files.
Editors can publish posts, manage posts as well as manage other people's posts, etc.
Administrators have access to all the administration features.


Protected Files and Pages/Posts


File protection
Faculty can limit access to enrolled students for uploaded media files that must copyrighted protection.
Once a file has been uploaded to the Media Library you can edit items that should be protected by clicking Add to Protected under the Media Vault Protection Settings.
Choose "Use Default Setting" for file access permission (which is set to subscribers).


Page/post privacy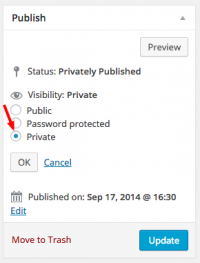 Choose which portions of your site are public and which are only viewable to your students.
By setting a page's visibility to "Private" (in the Publish block) it will only be viewable to logged in users who are subscribers to the site (your students).
Note: you should still use file protection for media that needs protection even if it is only linked from a private page.
Additional Features


Email enrolled students from within WordPress


Discussion Forums


Evaluation Conference Sign-up Sheets
|
}}