Student: Internship Contract Guide
From Help Wiki
Internship Contracts (INT) are more complex than a standard ILC contract and require a few more steps to complete.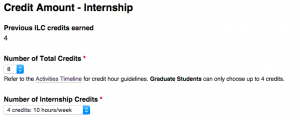 Defining Your INT Contract
Internship Contracts require you to define how much credit is Internship related and how much the contract is overall
Total credits is for the contract overall, Internship credits is for the portion that is Internship related
See: the Internships page for more info.
Field Supervisors
Please read the Field Supervisor Approvals article for more information.