Create an Accessible PDF
From Help Wiki
It is important that PDFs being used for instruction feature Optical Character Recognition (OCR) to utilize inclusive design and make materials accessible to as many users as possible.
The Library can assist in creating accessible PDFs (Portable Document Format) for use with Canvas and WordPress sites. To request assistance, visit the circulation desk and fill out a request form.

At Evergreen, we distribute a lot of instructional material in the form of PDFs
When selecting or creating PDFs for use as course materials, make sure the document features OCR.
Optical Character Recognition is "the mechanical or electronic conversion of scanned images of handwritten, typewritten or printed text into machine-encoded text."
OCR is a simple preset that must be selected within Acrobat Pro before starting your scans. Read about OCR and recommended scanning presets below.
Using PDFs from Other Sources
There may not be a lot you can do if you are using a PDF from another source (such as journal articles or scanned photocopies) but there are a few elements you should look for when selecting PDFs to assign.

Use Original Documents Only You cannot create accessible PDFs from printed copies because they are not high enough resolution. OCR will usually fail. Use only original textbooks to scan from or an existing, 300DPI or higher PDF file.
Clear, readable text. Text may be inaccessible if it is warped, in an unusual font (such as Curlz or Handwriting), or is covered by handwriting/drawing. Students may be using software that uses OCR (Optical Character Recognition) in order to convert text to audio, if the characters aren't clear, the audio will be convoluted.

Large font. Some individuals can read large type if there is a high contrast (e.g. black font against a white background or vice versa).

Page numbers. Page numbers, particularly located at the top of pages, help students navigate where they are in the text.

Straightforward structure. Many screen readers scan text from left to right, top to bottom. PDFs which include minimal break-out text boxes, tables, wrap-around text, etc., are generally accessible to students.

Few images and alternative content. Students with different visual needs may not be able to access an image but this also applies to other content as well: graphs, tables, diagrams, etc. Captions and descriptions for visual-based content can provide students with information they might have missed otherwise.

How to Make Accessible PDF Docs
Please note: This process assumes that you are using Adobe Acrobat Pro, version 9 or higher, on either a Windows or Macintosh computer.
Scanning Process
Turn on scanner
Place first page on scanner bed, aligned according to size and scanner layout
Start Adobe Acrobat Pro from the Start Menu or Launcher
Navigate to File > Create PDF From Scanner. Select "Configure Presets."

On a Mac you are automatically prompted with the presets option screen below.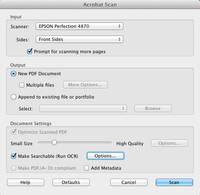 Ensure that Optical Character Recognition is selected.

DPI must be 300 or higher to ensure the character recognition process is successful.

If you select the "options" button next to the OCR checkbox, you are able to change the OCR type from "ImageScan" to "ClearScan."

ClearScan OCR will keep the file size low while maintaining quality.
Adobe has an excellent writeup about these options.
Converting an existing PDF
Open the PDF in Acrobat Pro
Select "Recognize Text In This File" from the right hand side bar
Click "Edit" on the pop up window to ensure you have the following settings
English US - ClearScan - 300DPI
Click OK
Save the file
Re-open the file
Go to File > Save As Optimized PDF. Ensure compatibility is set to Acrobat 10x on the right side
Save