Optical Character Recognition
From Help Wiki
OCR is an accessibility web tool that allows its users to transcribe images into editable text. This allows the user to create images accessible to those who may be visually impaired or convert PDF that is in JPEG format into editable text.
OCR in Adobe Acrobat
OCR is a simple preset that must be selected within Acrobat Pro before starting your scans.
How to select OCR when scanning your PDF
Turn on scanner
Place first page on scanner bed, aligned according to size and scanner layout
Start Adobe Acrobat Pro from the Start Menu or Launcher
Navigate to File > Create PDF From Scanner. Select "Configure Presets." On a Mac, you are automatically prompted with the presets option screen below.
Ensure that Optical Character Recognition is selected. DPI must be 300 or higher to ensure the character recognition process is successful.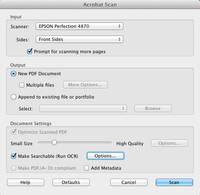 If you select the "options" button next to the OCR checkbox, you are able to change the OCR type from "ImageScan" to "ClearScan."

ClearScan OCR will keep the file size low while maintaining quality.
OCR Resources
Adobe has an excellent writeup on how to optimize OCR